Beginning Work on Ea d20 for D&D 5th Edition
by admin —
published

Jun 03, 2015 10:55 PM,
last modified

Sep 07, 2015 10:55 PM
I have been running groups with 5th Edition since June 2014. Now to adapt it to Middle-earth...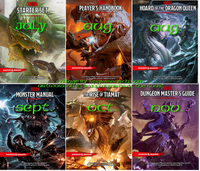 Now that I have a fairly comfortable grasp of the differences with 5th edition, it is time to begin work on making it better fit a Middle-earth campaign.
I really like a lot about 5th edition much more than 3rd and 4th edition. I think this version will be easier than the others since it actually maps well to many concepts, it is just a matter of adapting the specific charts appropriately.
With Tolkien Moot XI only a little over 40 days a way, I am juggling preparing for the convention, researching the campaign topic, writing the campaign to be run at most of the tables, but hopefully I can get a rough draft out to folks before then for your edification.
Stay tuned!