Version 20120804L of Ea d20 Races & Cultures now available
by admin —
published

Aug 19, 2012 05:45 PM,
last modified

Sep 07, 2015 10:06 PM
Just letting folks know there has been an update to the Eä d20 Races & Cultures book...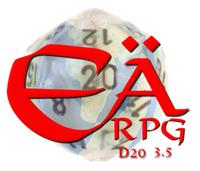 Some of the changes include but are not limited to:
Cleaned up hundreds of formatting issues (many more under way)
Greatly updated the previously anemic Indexes
Removed Umli Race and Umitic Language as valid Middle-earth Race/Language
Updates to Dwarves
Updates to Elves
Many other updates

The latest version of the Eä d20 RPG Races & Cultures sourcebook can be found here:
Latest Races & Cultures Source Book

The Eä d20 Role Playing Game is an adaptation of D&D and variants to Middle-earth. This allows you to use your existing Dungeons & Dragons core books in a Tolkien RPG campaign setting.

Enjoy.

Namarie!