Updated Magic in Middle-earth 3.5 version zf - Shadow Rules Early draft
by admin —
published

Jun 26, 2013 03:30 AM,
last modified

Sep 07, 2015 10:19 PM
Greetings All, some more updates for the Magic in Middle-earth 3.5 rules, especially beginning work separating Shadow from Taint, and defining the Shadow Points mechanics.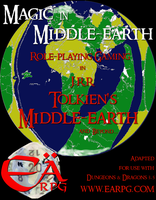 Separated Taint and Shadow to have notably different effects. Basically Taint is 
more physical effects and less common, while shadow tends to be more alignment 
and mental effects, and more common.
Taint follows the UA rules.
Shadow rules now roughly defined, and the consequences are being filled in 
(though not yet complete).
Separated columns between Taint and Shadow in the Spell List.
Also started indexing many key words, spells, and other index entries now in 
the Appendices.
Started defining definitions (in the Appendices).
Updated Table of Contents and Index pages.
Only partway through the "As" for filling in Taint points versus Shadow 
columns.

Please look over the Shadow rules, those are the mechanics in first draft, and 
where I have the most concern, and would appreciate feedback.

Latest version here:

http://earpg.com/documents/ea-d20-rpg/ea-d20-3.5-rpg/magic-in-middle-earth


Namarie!