Tolkien Moot XII Begins July 16!
by hawke —
published

Jul 06, 2016 01:51 PM,
last modified

Jul 06, 2016 01:51 PM
A quick reminder that the Eä Tolkien Society's Annual Tolkien Moot XII Begins July 16, 2016!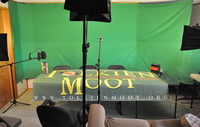 Reminder: Eä
#Tolkien
Society's Annual Tolkien Moot XII Begins July 16, 2016! http://tolkienmoot.org/news/tolkien-moot-xii
#convention
#moots
#RPG
By popular request of the attendees at the upcoming Tolkien Moot XII, we will be running both TOR RPG (The One Ring Role-Playing Game by Cubicle 7's
Francesco Nepitello
), and d20 adaptations (based on Eä d20) for AD&D 1st edition.
This will be the first year we are not including other tables for other systems such as ICE's MERP, Decipher's LotR, Harnmaster, GURPS, etc. All of the attendees requested either d20 (most) or TOR RPG (2nd).
We have sent several requests to Cubicle 7 since their announcement about their d20 adaptation, asking for the status (and any possible early/sneak peaks) on their d20 TOR, since we haven't received any responses, but unfortunately have not received any responses.
So we will once again use the Eä d20-based rules until Cubicle 7 makes something available.
Remember we stream the convention live over the Internet via our Youtube channel each year (and keep it archived there).
We keep hoping C7 will reply in time for us to share with the avid Tolkien-based community viewing/attending Tolkien Moot, but we'll make do with whatever is available until then.
As usual, we have players ranging widely in ages from around 11 to 50+ years old. And this year may be almost even in attendee numbers between youth and adult tables, and male/female attendees!
Nice to see a better balance and some "changing of the guard" with new players!
Happy Gaming and Namarie!