Eä RPG Basic System Core Rulebook Draft Version 20101106f PDF
by admin —
published

Nov 07, 2010 01:20 PM,
last modified

Sep 07, 2015 09:32 PM
A lot of additions this time around, much closer to completion...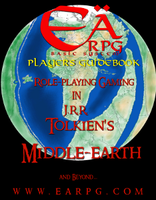 Here is a summary of some of thekey updates:
Equipment beginning to be filled out (no prices yet, still working out coinage rules).
Adjusted the points and base Attribute scores, so that maximum is 9 rather than 10.
Changes to both the "Song of Arda" (rolling) and Self-determination (points allocation) rules.
Started on figuring out a money system (will likely be revised again from feedback from others thankfully).
Began an Herbs, medicines, and poisons section (will basically be from the Hands of the healer, with any tweaks from elsewhere).
Established some ideas on basic beginning equipment, and options for roleplaying getting more.
Created lengthy list of categories and titles for "Character Paths" (Professions).
Established 10 steps from character creation to beginning play. 
Established how health is calculated.
Tons of editorial updates.
Enjoy!