Other Minds Magazine Issue 12 Published
by admin —
published

Jul 26, 2011 11:20 AM,
last modified

Sep 07, 2015 09:48 PM
Other Minds Magazine, Issue #12 has been published! This time, we have four excellent contributions, dealing with a broad range of Middle-earth topics. The purpose of Other Minds Magazine is to provide Tolkien-related content of interest to Tolkien enthusiasts of all kinds and more specifically, information usable by those who love to use role playing games to enjoy the many facets of J.R.R. Tolkien's imaginary universe containing Middle-earth, Númenor, Endor, Arda and all of Eä, using whatever game system desired.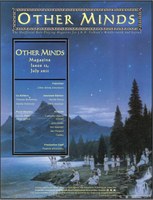 Download: Other Minds Magazine Issue 12 PDF (8.3 MB - 8,690,172 bytes)
Download: Excel Form Survey XLS (88 KB - 90,112 bytes)
Download Zip file containing PDF and XLS files: OM 12 Bundle (8.1 MB - 8,542,207 bytes)
Topics
Editorial:
Some news, mostly about the state of the new game by Cubicle 7. In short, it's almost there!

Inside Information:
Some information about internal topics, primarily about the survey results so far.

"Númenórean Longevity Revisited" by myself
A short discussion about some topics of the Númenórean longevity that had not been 
addressed in the OM6 article.

"An Unexpected Party" by David Daines
The description of the painting of a great Middle-earth miniature set and its inclusion in an 
even more formidable diorama.

"The Phenomenon of 'Eternal Realms' in Middle-earth RPG settings" by myself
Discussion about a frequent phenomenon seen in past Middle-earth RPG publications.

"Quendi" by Daniel 'Vaco' Vacaflores
An extensive discussion about the various elvish peoples in Middle-earth. Complete with 
stats for Vacos own system as well as MERP.

In addition to this, we were able to illustrate all this with the images of several great artists. 
These were (in alphabetical order): Catherine Karina Chmiel, John Howe, Ted Nasmith, Jan 
Pospisil and Tuuliky.

Have fun with our most recent Issue!

For the OM team
Thomas Morwinsky


Visit Other Minds - a free international journal devoted to role-playing and 
scholarly interests in J.R.R. Tolkien's works

http://www.othermindsmagazine.com