Updated Ea d20 3.5 Races & Cultures Core Rulebook
by admin —
published

Feb 16, 2013 06:05 PM,
last modified

Sep 07, 2015 10:10 PM
A number of updates in this latest version publicly available, especially regarding Dwarves and herbs...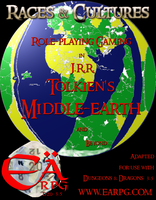 More general clean up. Filled in more information about each of the the Seven Dwarf Tribes / Houses. Updated chart of Dwarf tribes. Added a little more original artwork. Started filling in section on Herbs. Moved the Tale of Years from front of book, to back as Appendices (more Tolkienesque, and lets folks get to character creation section sooner).
Ea-d20-DnD-3.5-Races-and-Cultures-20130216o.pdf
Enjoy!