Ea d20 3.5 Deluxe 4 Page Character Sheet PDF now available for download
by admin —
published

Oct 19, 2010 03:50 AM,
last modified

Sep 07, 2015 08:48 PM
This is a 4 page character sheet based on the D&D 3.5 Deluxe character sheet, but modified for Ea d20 3.5.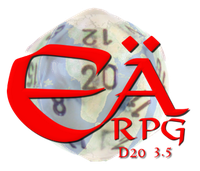 I have been using these character sheets for several years, and modifying through game testing with various groups. If you feel additional modifications are needed, please let me know. Some of the modifications include:
Added field for Comliness (optional)
Sense Magic Broadcast
Sense Magic Residue
Casting DC Racial modifier
Casting DC Int modifier
Miscellaneous DC mods
Base casting DC
Total casting DC.
Filesize: 47252Kb(46 MB)
Download URL: http://earpg.com/documents/ea-d20-rpg/Ea-D20-RPG-D-D-3.5-Deluxe-Character-Sheet-4-Pages-20091004.pdf